| | | | |
| --- | --- | --- | --- |
| City: | Gunnison | State: | US-Colorado |
| Size: | Years | Style: | Mixed |
| Season: | Year-Round | Difficulty: | Intermediate |
Overview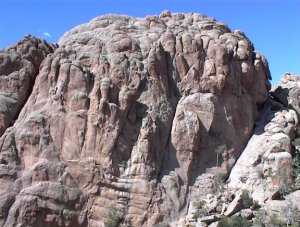 Hartmans Rocks

Hartmans Rocks is an area just south-west of Gunnison Colorado. It has an interesting geologic history. At some point in the distant past, a plug of the earths mantle sunk. This allowed lava to rise around the plug creating a ring of harder granite. The surrounding rock then eroded leaving Hartmans rocks which is a 6 mile ring of flaky granite. The rock formations are astounding in places and though several of the local favorites are listed here, there are virtually unlimited lines up them. It's also a favorite mountain biking and general use area (read that, "the highschool kids use it for getting drunk"). Because of the type of rock, the climbs tend to be slabby though some nice face climbs do exist. This is a good place for biolting projects since the area, though it has been climbed a lot, has enormous potential.
How to get there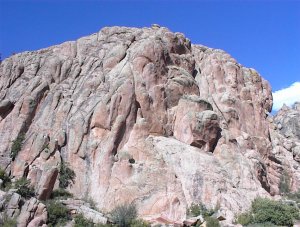 Buddhas Belly Rock front view

From Gunnison, go west on highway 50. Almost out of town you will come to a bridge over the Gunnison river. Just BEFORE the bridge, take a left. This will send you south skirting around the airport. The road curves around to the left (past the KOA Campground) and then right and heads off south. About a mile down this straight road is the turn off with a sign welcoming you. The rocks themselves are visible from the airport so if it's not obvious, you're lost. After turning right into the area, keep right on the dirt road and follow it up the hill. This is a steep road (called "death hill" or something by the mountain bikers...) You will wind around and go through a cattle guard at the top and reach a parking area. To reach Buddhas Belly, continue down this road and take your second left. This dirt road passes along in front of a long band of rocks. Parking for Buddhas belly is your second left from here. Note that the second left connects with the first in a looped driveway sort of thing. You'll be facing the Front of Buddhas Belly rock. Buddhas Belly is around to the right a bit when looking at the front.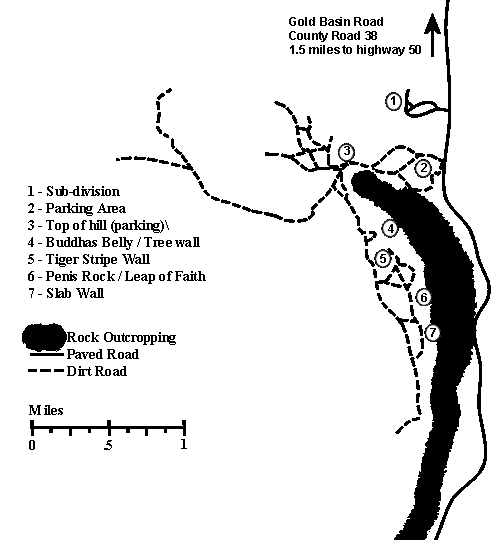 Map of Hartmans Rocks